Ana
Ana Luisa Baptista was born in Brazil, studied ballet at Escola Estadual de Danca Maria Olenewa and Physical Education at the State University of Rio de Janeiro.
To fulfill her dream of being a professional ballet dancer, Ana moved to New York City. Professionally, she has danced as a Soloist and as a Principal Dancer in several companies in Brazil and the U.S.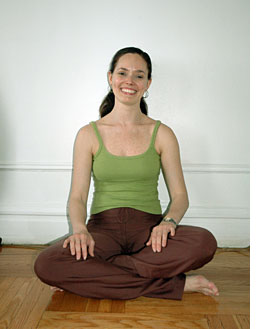 Ana's teaching experience began in 1988 when she began teaching ballet classes for gymnasts on the Brazilian Olympic team and at the State University of Rio de Janeiro. In New York City, she also has taught at Ballet Academy East and the 92nd Street Y.
Always intrigued by how often dancers become injured, Ana found Pilates as an answer to recover from injuries and regain strength and flexibility. In 1994, Ana increased her commitment to the study of Pilates and started to teach Pilates with Peter Vaillancourt. Later on she became certified to teach mat and apparatus through Power Pilates.
Ana has vast experience teaching Pilates with a diverse range of clients. Ana has taught younger Pilates students ranger in age from 8 to 13 years-old, adults of all age as well as seniors. She has taught students and professional dancers with injuries from New York City Ballet, Alvin Ailey and the American Ballet Theatre.
Her work focuses on precise alignment and quality of movement while guiding her students to understand the mechanics of their body .Inspired by the benefits she has personally experienced from Pilates and her love of teaching, in 2006, she created Pilates in the Heights with Chris Veljovic.
Chris
Christopher Veljovic, a native New Yorker, began studying ballet at the age of 8 at the School of American Ballet. Chris then joined the Houston Ballet where he became a soloist and danced professionally for 10 years. As a dancer, he integrated Pilates into his morning warm-up routine.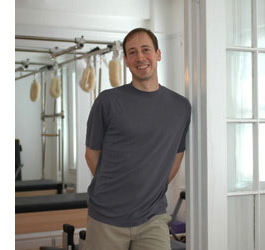 Due to a career-ending back injury and subsequent back surgery Chris used Pilates as a vehicle to rehabilitate his body. During this time, he began to fully appreciate what Pilates could do for the human body and went through teacher training and became certified through the PhysicalMind Institute. Chris has been teaching Pilates since 2000 and is certified to teach mat work as well as all of the apparatus. Chris emphasizes alignment, posture, core strength and body awareness. His 20 years of dance experience along with Pilates, and his passion for sports, lend insight into teaching movement quality.
Chris is thrilled to have created Pilates in the Heights with Ana Luisa as a space where he can share the benefits of Pilates, support his clients and make Pilates accessible to all.